It's about 7:30 pm in the middle of the week.  I'm winding down with the family when it hits me….It's Wednesday night. 
Every Wednesday night, at "about" 8 o'clock there is a podcast on Youtube that I can't miss. It's a live show with 4 window cleaners that sometimes may even talk about window cleaning. It's called the Squeegee life podcast.
"It's 4 guys who are all on the same wavelenght"
Guys that just got done cleaning glass and stressing about their small business like the rest of us. They have the same pains as you. When Covid hit, they panicked like you or I. They talk about all of that together and just happen to be on camera 
Now, they will even tell you, it's not as much about cleaning windows per se, but more about entertainment.  There is smoking, cussing, fart noises, and a lot of talk about rags, and King of the hill for some reason.  It's 4 guys, that on some level, are in the same boat as us. We're all window cleaners. There is just some kind of deep-rooted connection between us.
Guest's or no guests, there are 4 main dudes.
T-Squeegee, Marc Tanner, Tim Huber, and Seth Byers.
4 window cleaning business owners from Ohio, Florida, and Massachusetts. The great thing is they are all window cleaning business owners.  They just also happen to be friends that think alike.  The draw of these guys is pretty intense!
T-squeegee started the original Squeegee Life Podcast.  He is a window cleaner out of Ohio.  "I started the podcast because I wanted to bring entertainment and knowledge from a window cleaner's perspective. Something by the people for the people. A place where we could be ourselves make people laugh and help other window cleaners along the way."  he says.  And that's a big part of what he brings to the industry.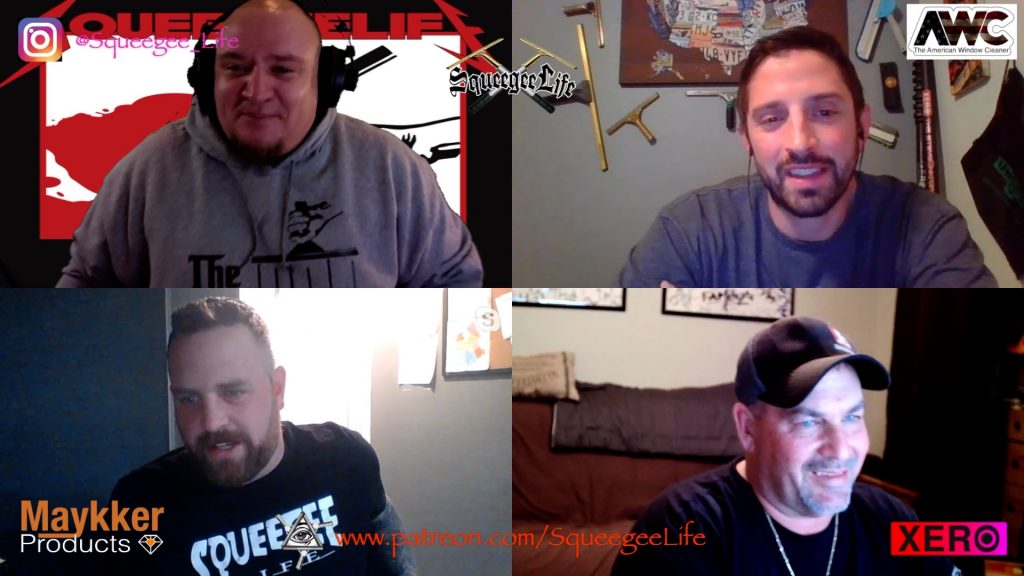 He goes on to say "I think people watch the podcasts for several reasons. Most people can relate.  We've formed a bond with our viewers. Another reason is, I think people see the value in the experience we bring.  There's a lot of knowledge between the four of us. Some folks watch, just to see what we are going to say next.  And then finally, a small group that loves to hate us, but won't miss a show."
> In my opinion our target audience is anyone that feeds their family cleaning glass. Or enjoys a blue-collar perspective on life. Dirty Hands Clean Money.
T- Squeegee is one of the nicest guys you will ever meet unless you are trying to scam people.  And if you are, he'll make it known.  Being The type of person that wears his emotion on his sleeve, he lets it be known.
Then there's "short story long" Marc Tanner, the stain removal master.  He's been cleaning glass for more years than he'd like to admit, down in Florida.  Marc started on the podcast almost by accident.  He became a reoccurring guest with T-Squeegee, and they discovered a perfect pairing.  
"I get to meet new people.  Get to joke around, its not real serious.  That's what the podcast attracts.  Window cleaners and guys that just want to hang out and shoot the sh**
"I dislike any part of the business that's office-related.  Phone calls employee issues etc. I love the physical act of cleaning windows,  the challenge of a building,  or the challenge of restoring damaged glass. I do love meeting building managers,  but I hate writing proposals."  Says Marc.
Seth Byers is next up in the 4 some, and he hails from Massachusetts.  "I jumped in the podcast early on and it's been a really great time and I'm glad to be a part of it."  he says, "I think our podcast tries to hold the people who sell us goods for our trade account and to be as fair and impartial for what works and what doesn't. Also, we just talk a lot of sh** lol."  Though Seth is the quiet one, he's usually the reason for the sound of an ice-cold beer getting cracked open.
Finally, the 4 wouldn't be rounded out without Tim Huber.  Also from Ohio, Tim is out in the field every day, just like the rest.  He joined the podcast because he wanted to help out T-Squeegee with the podcast,  he said: "People watch our podcast because it's no bull****" and that is 100% the truth.  
If you are looking for the Mr. Rogers of the window cleaning world, you took a wrong turn.  Think of going out to have a beer with your window cleaning buddies…That is The Squeegee Life Podcast.
T- Squeegee said "Fact is we are window cleaners. We're on the glass every day.
We aren't Faking the Funk
We share our opinions, and knowledge.  We will continue to do so without being beholden to anyone. We've gotten where we are today by being real and ourselves and that will never change."  
He continues "Although most view us as clowns that don't take much seriously. We actually take what we do not only in our businesses seriously but we also take our podcast and our message very seriously too. We feel a certain responsibility to our listeners and our industry to be the voice of every man. And make sure that the future of our industry is solid and people can be proud to be window cleaners."
Everyone seems to be trying to be a star nowadays with social media and Youtube.  Most people care more about being heard than WHAT they actually HAVE to say.  Being a "so-called" celebrity among the few, and thinking that somehow they will be YouTube rich.  Only for them to fade off like the rest.  These guys don't seem to be interested in any of that. 
They just hang out, smoke, drink, and be themselves. Take it or leave it.
-By The Editor