SÖRBO in the 21st Century
In 2000, Sörbo introduced the fourth Wide-Body Squeegee model, the Silverado 3×4 Adjustable squeegee. This was a more affordable squeegee channel in sizes from 12 inches to 36 inches. They come with a soft rubber and are excellent for straight pulls and fanning. At that time, Sörbo had already three different Wide-Body Models, including the Black Mamba with 90° ends, the Quicksilver with the patented 40° ends, and the Cobra 40° Squeegee with the first plastic end plugs in the World.
In 2001
Sörbo improved the famous stainless steel End Clips that slide in on one side of the rubber blade, wedging it in place that he invented many years earlier. These were very different from the brass clips that wrapped around the Round Rubber, which was the standard in those days. He also added to the little bumps in the middle to keep the squeegee Rubber firm in the channel.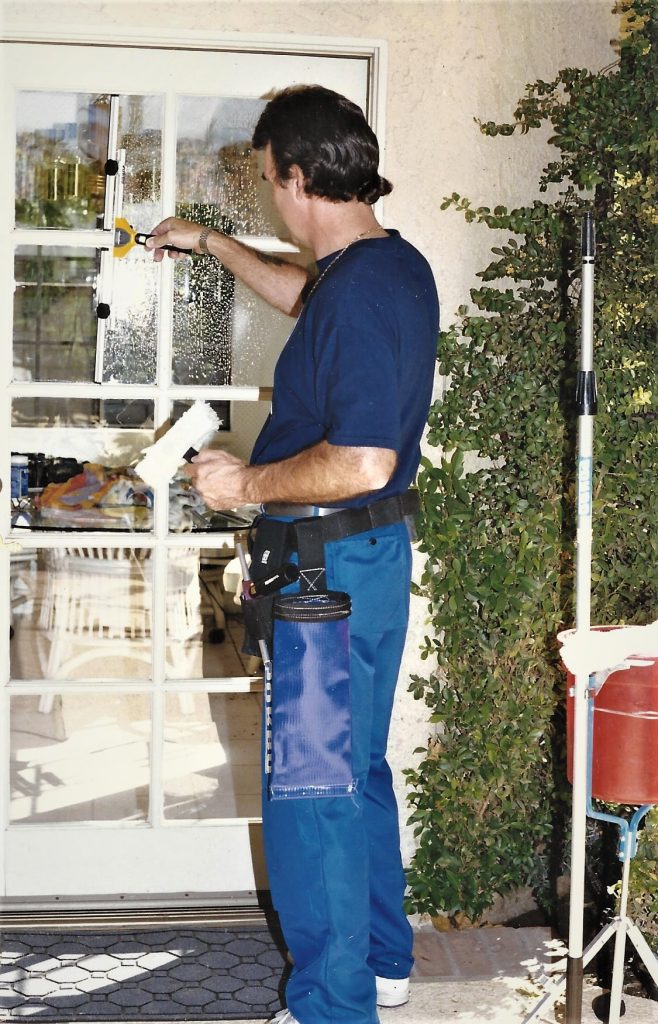 In 2009
Sörbo dusted off the ol' drawing board yet again and introduced the fifth squeegee model in his Arsenal, the Ultralight, a standard squeegee channel, in sizes from 6 to 18 inches and, as usual, made of the highest quality just like everything he invented. With this new super-light and rigid standard design, he then switched them for the ol' brass that was on the Tricket, the Louver Window, and Glass Bar shelves squeegee, making it much lighter. This squeegee channel is designed for all the squeegee blades on the market, and includes Sörbo's famous End Clips.
In 2010
He also introduced the new extension pole 'Jam-Proof' End Tip designed with O-rings around it to prevent the squeegee handles from getting stuck every time you removed them from the pole. Easy-on and easy-off. Lots of technical expertise went into the design of our new end tip to hold handles firmly yet release them easily and not sit loosely on the pole. To reduce tip-to-handle friction, one or two O-rings may be removed from the tip.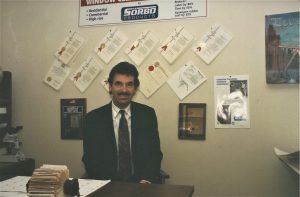 In 2013
Sörbo created Aluminum Handles to fit each of the Sörbo squeegees. Lightweight, streamlined, maneuverable, and now fast release with rubber grip. The conveniently placed lever releases the squeegee channel with a quick flick of your thumb. The release lever is functional elegance. Designed color coordinated to fit Sörbo Squeegees: Black LEVER fits: Mamba, The VIPER45 Squeegee; Purple LEVER fits: Cobra, Silverado Squeegee; Yellow LEVER fits: Ultralight, ULTRA45 Squeegees.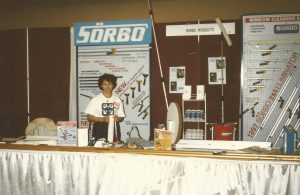 In 2015
Sörbo introduced the California Dream Pole in two sizes: a 4 to 8 Footer and a 1 1⁄2 to 3 Footer. This was the first extension pole with a high-torque, heavy-duty aluminum lock. Only a quarter turn to lock securely in place. It is very rigid but also very light because it had an alloy locking device. It requires maintenance and needs to be unscrewed and lubricated once a year.
In 2018
Sörbo came out with a new design of the 6-inch Sörbo Adjustable Scraper that would pivot from Left- to-Right. The blade (head) can pivot Left and Right in different angles from 0° to 72° to achieve easy access to challenging window corners and hard-to-reach areas.
About this time, Sörbo was introduced to Louie Sanchez of Superb Window Cleaning, CA, a zealous Sörbo fan. Louis shared that he'd been making videos using Sörbo products on social media for his many enthusiastic followers. Sörbo was inspired with these advancements in the window cleaning market. There were numerous tutorial videos at the finger-tips for the industry – Sörbo was fired-up to invent again. A totally new training platform compared to Sörbo's medias in the 90s, videos of techniques of his Wide-Body Squeegee, and there weren't too many that did it those days. Now you can Follow and Subscribe online by visiting www.sorboproducts.com, and on YouTube channel, Facebook.com/sorboproducts/, and Instagram.com/sorboproductsinc.
In 2020
The S-ARM Washer was introduced. This was the first change in a Tbar washer since it was introduced in the 70s, and it is a time saver, especially for monthly and repeat accounts. Simply wash the window leading with the bumper toward the window frame at all times. Then, when there's a lot of debris, lead with the opposite end (without the bumper). Another great labor and time saver from Sörbo! The S-ARM is available with Single or Double bumpers.
In 2021
Sörbo introduced the first ULTRA45 standard aluminum squeegee, the first standard squeegee cut 45° in each end. This squeegee channel is the same as the Ultralight, and is still one of the lightest squeegee channel on the market today, 18-inch, weighing just 2.5 ounces.
No national event could stop Sörbo, seems to have just made him stride larger and introduced the newest Wide-Body, the VIPER 45. This model combination is a Quicksilver channel with 45 degree cut ends and a slick black label with silver text.
The VIPER45 was inspired by an inventor-devout window cleaner in Australia, Herman Wieland, who'd modified Sörbo's Wide-Body squeegees in 2014. More or less he took the 40° back and front of the channel down to 45°angle. So, Sörbo honored Mr. Herman for this well-liked design. Sörbo VIPER45 is now available in sizes 14-inch to 24-inch. Since 1984, Sörbo has developed 7 different model series of the Sörbo Squeegees, from the original Wide-Body to the light weight Aluminum Standard squeegee channels. Undoubtedly, Sörbo Samuelsson single-handedly advanced the window cleaning world with his products line and time-saving techniques, changing the way window cleaning was done.
Sörbo sends a shout out to all window cleaners saying "Thank You for using Sörbo Products! It's a pleasure to serve you all! Follow Sörbo on online and catch what he dreams up next on: www.sorboproducts.com, and on YouTube channel, Facebook.com/sorboproducts/, and Instagram.com/sorboproductsinc. "Sörbo Products – Doing it Smarter and in Less Time!"