Mr. Sörbo, the Godfather of the Wide-body 3×4 Adjustable Aluminum Squeegee. Celebrating 50 Years in the Window Cleaning Industry

Mr. Sörbo Samuelsson started cleaning windows in 1971. Today, in 2021, he is celebrating 50 years in the window cleaning industry. He is a leader in innovation that has introduced over two dozen products to the window cleaning industry. He has 10 patented window cleaning tools under his belt and his achievements are mirrored in many of the products on the market today. 
Mr. Samuelsson is an immigrant from Sweden. He did not grow up with a silver spoon in his mouth. He explains, "Toys and birthday presents were scarce as a young boy, so I started to make my own toys out of wood and found that I was quite gifted with my hands. After a few years, I was able to make about anything I put my mind to. My dad was a talented artist and I seemed to have inherited that gift." Samuelsson continued to become a fairly good artist selling a number of paintings to relatives and friends. A local newspaper took notice of him and wrote a few articles about his paintings. Throughout the years, some of these paintings have been exhibited at the IWCA Convention Auctions and cherished by the winners. 
If you're wondering how Samuelsson managed to start a manufacturing company from his window cleaning business, there's more… 
Samuelsson was able to start his business without having to spend a lot of money. To begin, this self-made craftsman invented and designed his own prototypes, blueprints and artwork. He also welded and later in manufacturing, created his own machines and jigs to produce the product line you now know as Sörbo Products. Never relying on other manufacturing designed machines, he had endless possibilities with his own wealth of skills and passion. "It was all in the spirit of 'Doing it Smarter and in Less Time!'" says Sörbo.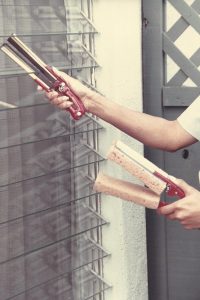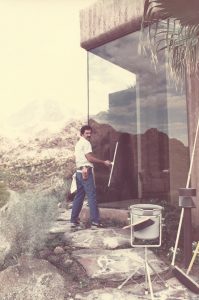 Because Sörbo Samuelsson has brought so much from the 80's and 90's to the recent squeegee design releases, including his innovative 3×4 Adjustable Squeegee system and his Rubber Trimmer- reducing a worker's labor, and his time-saving techniques, etc- no one can deny that he was well before his time. He has been commonly misunderstood for his futuristic designs, but has been found to have faithful window cleaners using Sörbo Products because he has developed a wealth of tools for them keeping the Window Cleaning Professional in mind. 
So how did you get into window cleaning?
When I first came to the States in 1971, I blew all my money, so I had to look for a job. The first job I got was at a welding shop. I didn't speak English so I quit and then landed a job as a window cleaner. I washed windows for 2 1/2 years and quit because my boss cheated me out of some money. So I started my own window cleaning business while working part-time as a carpenter. The owner gave me one of his client's accounts, one he didn't like. It was an apartment complex with a large amount of louvered windows. It wasn't very profitable to start out with – it was a 'pain-in- the-frame', like we used to say, and very time-consuming. But that was something I could work with… Shortly after, I invented the first two-sided squeegee in the world, the TricketTM. 
In 1975, I had enough of this time-consuming louvered windows (jalousie windows) and figured there had to be an easier way to clean them. An idea came to me, the TricketTM, a two-sided squeegee! My first prototype was very rough. I bent a 14" brass squeegee in the middle and flattened it, much like tongs really. I used that Tricket prototype for the next 8 years before finally deciding to patent and produce it in 1984.  
I hesitated a bit from suspicion of lawyers after one stole a tobacco pouch design from me for what is now known as a Snus (pronounced snoos) tobacco product. I brought it to a lawyer to be patented and later I found that he took my design for himself.
Then in 1979, America was hit with an oil crisis, everyone was concerned and started conserving to save energy and particularly stop wasting petroleum. One day, I realized we were changing out rubber everyday on jobs and there was a lot of waste. Then, the idea of a blade sharpener was born, the DocketTM. 
The DocketTM is the only window squeegee blade sharpener.

This, I think is the greatest achievement of all the products I've invented. After over a year of designing, I got the layout I wanted and it worked. For many years, window cleaners have benefited from this revolutionary tool. I originally offered the DocketTM as small as 18" and 24", and later in the 36" Blade Sharpener. Of course, the equipment in those days hadn't been improved since 1936. There were only two squeegee styles on the market: brass and stainless steel. Window Cleaners were limited in sizes. The brass squeegee stopped at 22" and the stainless steel at 24". I got to thinking: I must invent a new type of squeegee unlike the others. It had to be adjustable to work with my DocketTM sharpener. It had to be rigid for wider sizes, even a bigger squeegee to reduce labor and time. This took some new engineering and thinking outside of the box. Then it happened- in 1986, the 3×4 Adjustable Aluminum squeegee (or the Wide-Body) design was born. For the first time. 
Sörbo realized that you moved 28' to do a standard sliding door.  With the 36" channel you went down to 9' of motion. The Sörbo 36" Adjustable Wide-Body Aluminum squeegee shocked the industry! The first black squeegee channel was introduced to the market in 1986 – the Sörbo Black Mamba with 90 degree cut ends.
It was followed by the first T-shape Squeegee rubber on the market, but in white-soft! 
In 1986, Sörbo invented the first Sörbo 3x4TM wide-body Aluminum squeegee. This was the first 36" squeegee in the world. Inventing the first Adjustable Channel with 4 different settings – this was a totally new concept on its own level! You could move the squeegee rubber out to the 2nd setting and make the squeegee blade softer and more flexible, making the Sörbo Wide-Body Squeegee perform far better. This was also the first squeegee with it's particular design. But this was the first squeegee in the world with the white-soft squeegee rubber – noted as the most revolutionary squeegee channel! Then to compliment these, he invented a new end clip in the shape of, as he says, "looks like a little boat" which you wedge in to keep the rubber also in the channel. With all of Sörbo's revolutionary window cleaning equipment you could save up to 93% on squeegee rubber cost by re-sharpening in each adjustment. Hence the name "Sörbo 3x4TM" sharpens squeegee blades up to 12 times, 3×4=12. 
What was it like to get into the market in the beginning for Sörbo?
My revolutionary squeegee had people skeptical at first, for sure. I brought the first Sörbo squeegee, now called Black Mamba, but didn't know how or where to release the product in mass to the window cleaners. I had very little knowledge of marketing, no names, no contacts. So I said to my wife, "Where do we sell this new equipment?" and it seemed it was that very next day we received the first issue of American Window Magazine in the mail.
In 1970, Samuelsson was visited by a friend who lived in California, shared the wonders of the U.S. and asked him to come visit. The following year, he landed in Southern California. Once Samuelsson felt the warm southern California sun and was embraced by the American people, he said "I have never been to a country where I felt the warmth and love that I felt from the American people, and this is why I decided to make California my new home"…
TO BE CONTINUED…