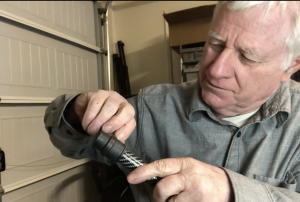 1. What year did you start window cleaning? 
In 1970, 17 years old and still in high school.
      2. Tell me about your first time cleaning a window. How much did you get paid? What parts do you remember? 
I worked for Cee Clean Window Cleaning in Detroit, MI, and got a % of the job, which equaled $2-3 per hour. It was late summer of 1971 in the hot sun. I had 11 KFC jobs, three times a week, and made $2.00 per store.
      3. What is the biggest change in all these years in window cleaning?
I began my early years working in cold weather and out of the back seat of a Volkswagon with a bucket of water, a teaspoon of soap, and a hog hair brush. Back then, there was very little equipment offered by Detroit Sponge in Warren, Michigan, so I only had one shelf of window cleaning equipment. 
      4. What is the best change? 
From having to do low-rise drops in 1995 to the invention of the water-fed pole, which made it easier to reach high windows from the ground. 
        What has been the worst change? 
The lack of honest consumer-type reviews of new equipment. It's hard to know what new equipment is worth the money from the one-sided reviews and YoutTube videos done by one supplier. In my 50-plus years of ordering new equipment, I have either had to modify it or just not use it. Many companies do not really test a product before production. 
      5. Why have you stayed cleaning windows for so long? 
I started in 1968, working in the carwash, washing the car windshield as the car when through, making $1.25 per hour. Now, at 70 years old, I can make $125 per hour. My employees can make up to $700 a day, and I do not have to clean as much anymore.
      6. Where do you see the future of window cleaning going?
All outside windows being cleaned by a WFP, made with a blend of ultra-high mod carbon fiber and Kevlar. This is safer, and then you're not using ladders as much. 
       7. What would be your advice to someone who is starting out today? 
Talk and work with another pro window cleaner any chance you get. You can learn so much more working with another window cleaner who can teach you! It takes years to be a really good and fast window cleaner, and the trick of the trade is easier to learn if a pro-window cleaner helps you along the way. 
       8. What was your lowest point in window cleaning? 
My heart attack in 2017 and not being able to work for four months. My guy Nathan took care of all the work. I eventually offered him a part-time job in the summer of 2017; now, he does 90% of the window cleaning. 
      9. If you had $1000 to spend on advertising, how would you spend it?
An $800 water-fed pole from SimPole, a hose, a reel, and a good brush! But for advertising, I would just get a free Google business page and a free one or two-page website.
      10. If there was one thing you could change with how you did things, what would it be? 
I should have started in 1980 working on my business and not starting in a franchise, teaching all the window cleaners I taught.