In this quick-read article, I'm going to highlight 5 Strategies you can implement starting this month using a 5% rule. Stay focused on these strategies and watch what happens this year. I will give you a summary of expectations at the end of this article.
Goal:
If you increase one of these strategies as little as 5%, you'll add a significant amount to your revenue.

If you increase all five by as little as 5%, you can completely transform your company.
Are You Ready?
Here's the first one. Remember, we only need a 5% increase! 
Increase the number of leads coming in.
Game Plan: Implement a Marketing Arsenal!
At my company, we utilize 19 separate strategies to create and increase lead gen. We average 350+ leads per month. What would that do for your business if you had that many leads coming in? Here are some ideas (see past articles too):
networking strategies

google 5-pack strategies

referral strategies

JV strategies

specific flyer/door hanger delivery strategies
This is a drop in the bucket of what you can do to generate leads.
MISSION: Build a Marketing Arsenal, Test Mediums, Measure the Results, Roll Out
Increase the Lead to Job Conversion Percentage
Remember, we only need a 5% increase!
How do you increase your Lead to Job conversion? Get better on the phone!
Game Plan: 
Scripts, Offers, Negotiate.

Booked Out? Use 'Incentive To Wait' programs.

Phone Pleasantries.

Down-Sell to Save the Job.

Learn the "one-liner" to overcome every price objection.
Conversion Example:
200 leads per month (7 leads/day).

Let's say your conversion is "65%".
Increase 65% by 5% to 70%.

Adding 10 more jobs on the calendar.
Increase The Average Sales Value
This is the price you charge for the services you sell  >>  I call it The Customer Job Average. Remember, we only need a 5% increase!
Game Plan: The more you tell, the more you sell!
Implement Up-sell strategies.

Implement Cross-sell strategies.

Learn to Bundle Your Services.

Add More Service Offerings. 

RAISE YOUR PRICES!
Note: We raise our prices EVERY year! And you should too.
Want to know more about these strategies? 
Schedule a call with me, and I'll break these down for your business: 
Increase The Number of Transactions (transactional frequency)
Game Plan: Get your customers to purchase from you more often!
Implement Membership Programs.

Reach out to your database more often.

Are you using the 5 magic words?
"Let's schedule your next cleaning?" …and take it from there.
Add more service offerings.
Increase Your Profit Margins
Game Plan: Remember, we only need a 5% increase!
P&L statements: I always find bleeding money when working with a client.

Study your Marketing Tracking Reports >> the analytics. What's really working?

Cut your costs. 
NOTE: Schedule a call and I will send you my 11-page report:
How To Cut Costs & Unnecessary Expenses & Literally Squeeze Out Profits You Never Had Before
Trade out for Services / Vendor Negotiation to cut costs

Get rid of your time-sucking, frustration-laden, always-complaining customers – with better customers!
…and watch your profit margins explode…
Ok, it's time to put all of this together. Let's see what this 5% "increase" looks like. In the graph below, I took a company doing $585,000 in annual revenue and applied the strategies. Here's what it looks like with an annual snapshot: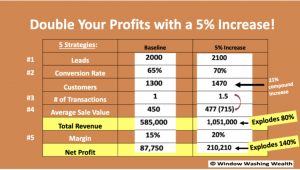 What do these 5 strategies in your business look like? Are the dots connecting? Or are you going nowhere quickly heading into the new year??
8 pm Nights

Weekend Work

No Work-Life Balance

Missed Kids Events

Body Wearing Out 
                                                             Are you ready to finally transform your business?
If so, now is the time to focus on your business this new year. These strategies will get you started…
This is the stuff my company and my clients keep a strong focus on (these strategies go deeper). And boy, does it make a difference in one's company. It will do the same for you!
Good luck! Having trouble? Call my office: 704-343-8867 or
Feel free to schedule a call with me here: Calendly.com/JimDuBois
…and while you're at it:
Get My Free 21 Page: Window Cleaning Business Action Guide!
Go to: FreeBusinessBuildingReport.com
Jim DuBois is the founder of Squeegee Pros, Inc. out of Mooresville, NC, and is the creator of WindowCleaningBusinessCoach.com. Visit the site for my latest book, "How To Build a Dream Window Cleaning Business in Record Time." Have questions about this article? Schedule a call with me above.