The greatest athletes, business owners, and leaders in the world have mentors, coaches, and guides. They have help. You'll never see a football team reach the Super Bowl without a coach or a Krav Maga artist achieve a Black Shirt without an instructor.
In your window cleaning business, who is guiding your growth?
Most window cleaners say they want to grow, yet they miss out on the biggest opportunity to grow—someone or something to help them get there.
The right information will save you time and money and eliminate stress by giving you clarity about what you should do (and shouldn't do).

The right knowledge helps you focus and creates accountability, so you rapidly reach your targets and goals faster without mistakes.

The right expert guides you from a perspective of success

and implementation

because they have done what you want to do and can show you the way.
Are You Frustrated?
Do your employees drive you nuts and need a lot of hand-holding to make sure they do what they're supposed to do?

Do you spend money with few results?

Do you struggle to make payroll? 

Do you wish you could hire great employees?

Are things turning out differently in your business than you were expecting them to when you first started?
You're not alone if you answered "yes" to some of these questions. Many window cleaning business owners just like you face the same frustrations. 
I was one of them. I got to the point where I was just plain stuck! I was frustrated and had to find a better way… fast. I didn't know where to turn or what to do next. It was 2008. The market was crashing, and I was scrambling. 
Whether 2008 or today, window cleaning businesses must be ready for what will happen next. And, as technology increases, our business becomes more complex, hiring becomes harder, and finding career-minded employees becomes tougher. The truth is: It's hard to run a business successfully, profitably, with a good loyal team in today's changing environment.
People's buying habits are changing.

Online marketing allows all your competitors to get ultra-aggressive in their marketing.

Social media gives complainers a platform.

Employees don't seem as dedicated or motivated as you were when you started the business.

Costs are rising faster than you can raise your prices.
…and I'm probably just scratching the surface of the challenges you face day-in and day-out.
That's the reality. And if you're reading this, maybe you're already struggling and fighting against that reality. So, what can be done about it?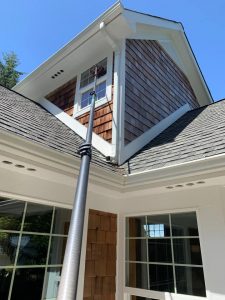 You could press on in frustration, not knowing what to do about it, and just accept that this is the way it's going to be from now on. That's not ideal, and you WILL burn out if you choose to do that.
Maybe not this year or next, but at some point, that negativity and all the hardship will take a toll on your physical, mental, and emotional well-being. 
Or you could whine, complain, moan, and grumble to anyone who listens. Believe me, I know there are plenty of window cleaners who do that! Chances are, that's NOT you… since I've found that people who choose to read this magazine fall into a different category.
The Times Are Changing
Or you could do what I did and decide to do something about it. You accept that the times are changing, and you step up to change with the times. You admit that you don't know everything and are willing to try anything that makes sense. 
You roll up your sleeves and dig in. You put yourself around people farther down the road than you, who you can model yourself after and even get mentored by. You invest in yourself and your education to learn what you need to know, and you start implementing daily and hourly to make massive, positive changes in your business.
This is exactly what I did in the fall of 2008 and forward. I sought out industry experts I could align myself with and learn from. I reprogrammed my thinking for better hiring, better marketing, and better branding. 
I began educating myself with books, and podcasts, inside and outside the industry, to develop a better 'business acumen' after all, I could clean windows like nobody's business, but building a true company was a different story. 
I hired 3 business coaches for the tune of $31,000. All this combined – CHANGED EVERYTHING. My company scaled from a few hundred thousand per year wearing every hat to the multi-million annual revenue mark with NO hats on my head.
You Become Who You Surround Yourself With
Your family depends on you, your employees and your customers depend on you. You have a lot of people who believe that you can and will do something to transform your business from sucking with frustration to skyrocketing. 
Maintain that attitude, keep searching out the answers, and keep pushing yourself to try things (even if you're scared) and you can discover what I discovered: that change, growth, and proper alignment are possible. 
Here's the good news: there are window cleaners out there right now that are thriving because they've discovered how to succeed even in this changing market. They have discovered how to succeed even though they were stuck.
No matter the size of your business 

No matter what markets you work in

No matter what other competitors are present in your market

No matter how "broken" you think the business might be
… some businesses have overcome the challenges you're facing, and now they are growing and succeeding like they originally set out and hoped to. 
Let's start with that fundamental question. If you don't know what you want your window cleaning business to be like, you must have a meeting of the minds with yourself. You need a vision for what you want to accomplish. Then, and only then, will you be able to move forward…
It took me a long time to understand the phrase, "You don't know what you don't know until you spend time with those who know what you don't know."
But once I did, I surrounded myself with like-minded entrepreneurs who introduced me to different perspectives, allowing me to grow as a business owner. It is possible to break through…
Jim DuBois is the founder of Squeegee Pros, Inc. out of Mooresville, NC, and is the creator of WindowCleaningBusinessCoach.com. Visit the site for my latest book, "How To Build a Dream Window Cleaning Business in Record Time." Have questions about this article? Schedule a call with me: Calendly.com/JimDuBois.