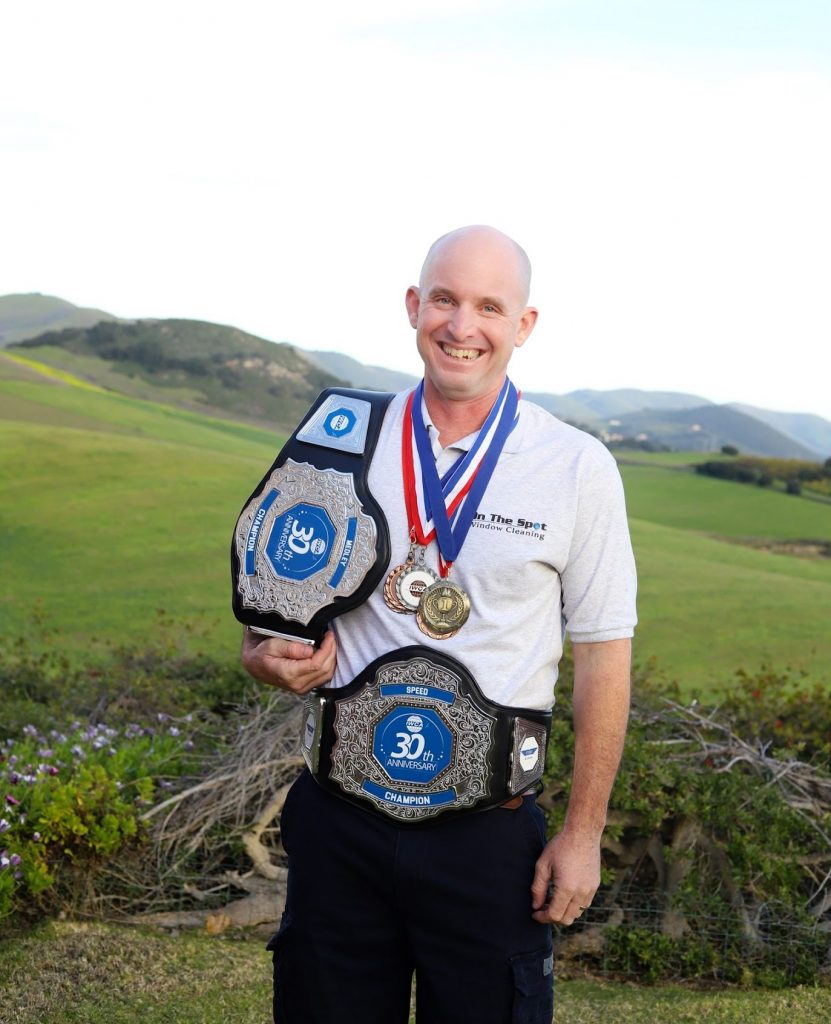 "It was a 15-year Fluke. That's all it is," Jeremiah Hickey insists. The owner of On the Spot Window Cleaning in San Luis Obispo, CA is as friendly and generous a guy as you will meet. His love of window cleaning comes across whenever he talks shop with other cleaners. He is thoughtful and precise, his decisions purposeful and well-thought out. Not exactly the kind of guy you would peg to be the type of fierce competitor needed to compete against the best in their industry. 
"I got into it because I had heard there was a speed competition at the very first IWCA convention I attended." Since it was being held in Anaheim, which was only 4 hours away from where he lived, he decided to see what all the fuss was all about. He really did not know much about the Speed Competition itself, other than you needed to use both hands at the same time. Since he had already been working on a two-handed technique on his own, he figured he was already ahead of the game. The year was 2000 and Jeremiah had only been cleaning windows for a couple of years. He had no idea what he was in for. 
"My wife told me to just go and enter the speed cleaning competition. She said it would be fun." Being the smart husband that he was, he listened to his wife, Amanda, and entered the competition out of curiosity. There, he met Jim Willingham, who became a mentor of sorts to Jeremiah. Now, Jim was the champion type. He had been cleaning windows for over 24 years professionally by this time and was one of the founders of the IWCA. He started the speed competition in the US and had competed in it since its inception. If his name sounds familiar, it is because they renamed the competition the "Jim Willingham Memorial Speed Window Cleaning Competition." Yeah, that guy. 
Jeremiah was a trooper. He tried, but his efforts were awkward at best. The techniques he needed to learn to win were different from what he knew. The equipment was not what he was used to cleaning with. The international contingent of competitors was brutal. Cleaners from France were coming in and dominating. Japanese delegates were formidable and came with entourages to assist them. There were 40-50 competitors who needed time to clean, so the competition lasted a couple of days. Every single entrant was extremely talented, and it was a tough match to start your speed cleaning career with. 
On the other hand, Jeremiah is not one of those guys who has time for the bad news.
Despite his inexperience, he placed 9th overall. Yes, after just his first time competing against a few dozen pros, he went to the finals & hung in there against some of the best in the World. That was a victory in his book. Then Jeremiah the Businessman took over. He marketed his participation in the competition like crazy. He was interviewed by the LA Times. He had articles written about him in the local press. His company's name became well-known in the SLO area and his company grew.  
After that year, there was no stopping him. He now knew what he was up against and each year he improved his time. He followed his mentor's advice and studied the French cleaners' technique. In 2002 when the event was held in Reno, he got close with a 3rd place finish, the winning times being 11.2, 11.4, 11.6 on the final. He placed 2nd in Atlanta the next year and was the fastest American window cleaner in 3 different competitions in the 2000's and once in 2010 in Reno.  
His best time in competition was recorded in 2008. That was the year that Jim Willingham, his mentor and friend, was battling cancer. The speed competition was held in San Diego and while the competition was taking place, Jim called Jeremiah. "I talked to Jim after the Qualifying round, but before the Finals. It was a good chat. I didn't realize that he was going to die. He was in the hospital when we talked." Jim's unselfish gift of support while he was critically ill was powerful.
Jeremiah recorded a 10.4 run, which was 1.26 seconds away from the World Record held by Terry "Turbo" Burrows.
He was RIGHT THERE. Bolstered by the support of his dying mentor, Jeremiah was just a few milliseconds away from finally beating the international contingent and claiming that first overall win. 
However, as we all know well, the effects of the 2008 crash lingered. As a cost saving measure, Jeremiah and his wife decided to limit how many IWCA Conventions they would attend. There were a few competitions in the mix, but eventually Jeremiah went from 2011-2018 without any efforts to compete to try to get that elusive 1st place overall finish. His business grew and he matured as a business owner. Things were good on the home and business front and the future looked bright. One day out of the blue, while he and Amanda were discussing the business, they started talking about using the Speed Cleaning as a means for marketing again. It had worked so well in the past, why not return to that well to see if there was any water left? Jeremiah once again started practicing and shaking the rust off his speed cleaning technique. It worked. Jeremiah left the 2019 IWCA Convention in San Diego triumphant as the 1st overall winner in both the Speed Cleaning competition and in the Medley.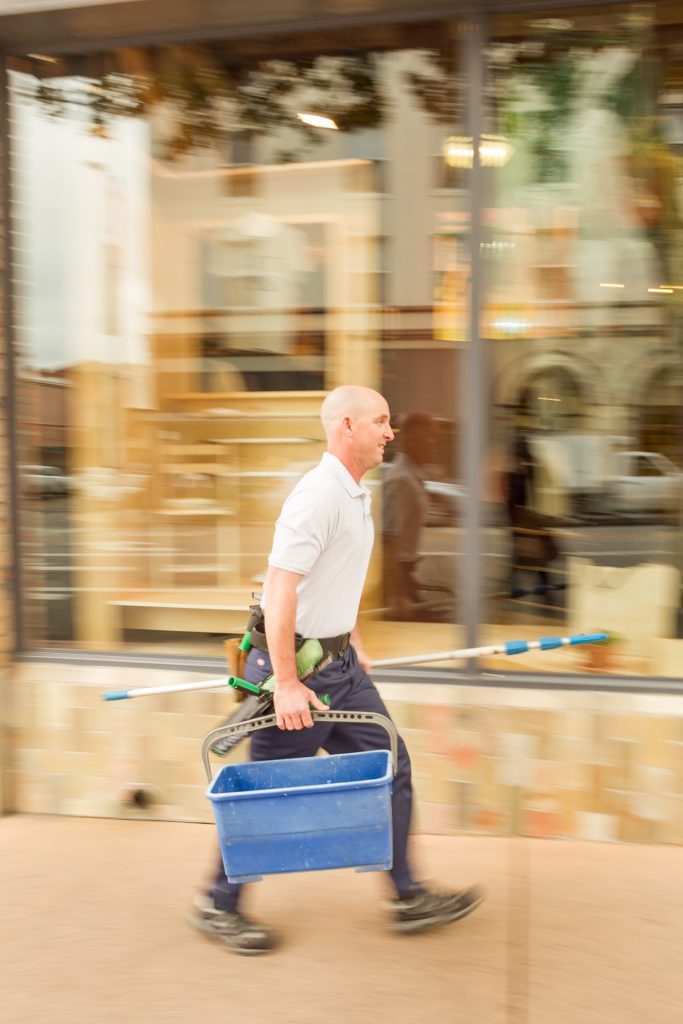 The Phoenix had risen from the ashes and that decision to come out of retirement proved to be a profitable one
On the way back home, Amanda wondered aloud, "I wonder when the next Guinness Book of World Record qualifying competition is being held?" When they arrived home, she did the research and found out that the next qualifying competition, The Cleaning Show "Window Cleaning World Cup", was going to be in the UK in a month. AND it just so happened that Jeremiah's new title as the IWCA Speed Cleaning Champion automatically qualified him for a spot in the competition. It was time to make some travel plans. 
"It was a no-brainer as far as using the business to pay for a trip to England for the first time in my life," He laughs. But Jeremiah was realistic: He had no fantasies about winning anything. This was the Big Leagues. While the IWCA had people traveling from all over the world to compete in the US, he was now traveling to the heart of world where the best speed cleaners resided, including Terry Burrows himself.  
The other huge difference, which caught Jeremiah off guard, is that the World Cup is really popular in the UK. In the US, few people know about the competition outside of the window cleaning community. It's a whole different story overseas. Soon after he enters the competition, a PR guy emails him and asks if he would be interested in helping with some press releases to drum up some media for the event. "Me, of course, being a media hound and using the media for almost 2 decades to bring attention to my business, I was like, 'Yeah, absolutely, no big deal." Well, it was a big deal. The PR department went to work. Right before they were to get on the plane, the PR Department informs Jeremiah that he is set to appear on "This Morning" for a segment.
At the time, Jeremiah really did not know what the show was, but he soon found out that it is like "Good Morning America" or the "Today Show".
Most people would freak out if they were told at the last minute that they were going to be performing on a nationally televised show that will be broadcast to a country that we had never set foot on before. This is where Jeremiah is different from most people. "I'm terrible, because I love this kind of stuff. I was like, 'Whoo!! I'm going to be on the big time news!'" He was really excited now. When he arrived on set, they took him in for make-up and gave him the star treatment. "The PR guy told me, 'You don't understand how big the people you are going to meet are. They are so famous in the UK. It is such a privilege to be in the same room as they are.' I still don't know who they were to this day. I'm an American, I don't watch these shows."  
They taped up a set of three windows to the regulation size for Jeremiah to have an unofficial competition. Well, who strolls onto the set? None other than the World Record Holder and UK native, Terry Burrows. Jeremiah says it was a playful skit and they both cleaned at the same time. Jeremiah displayed his IWCA Champion's Belt and the host jokingly threatened to steal it form him. Jeremiah was having the time of his life. 
Immediately after the show was the actual competition. On the way over to the convention, jet lag was beginning to catch up to him. Not only that, but he had developed a bit of a cold during the trip and now the Dayquil he had taken earlier was wearing off. He had such a busy day that he had not eaten anything except some coffee he had in the morning. Things were not looking good for Jeremiah's chances.  
The show had delayed his arrival and he missed his opportunity to take some practice runs before the competition started. "Terry was really generous to me. He was really nice. He grabbed a squeegee and washer, brought me up on stage, and handed them to me. No one was supposed to be practicing at that time, but He said, 'Get up on that glass. You have to feel it, it's different.'" He was right. "I went up and, anyone who has seen the competition knows, its three square 45" panes of glass in a row. I just kind of floated the squeegee on the glass, not in any competition style. I then followed the frames of the glass with the squeegee and they do feel different than the ones we have in the States. They have beveled edges. I knew this was going to be tough". He did one quick run on one pane of glass. And that was it. It was time for the competition. 
Everything seemed to be against him
He was set up for a humiliating run. The fastest cleaners in the world, many champions in their own country, were there. Jet lagged, sick, and with no time to practice, Jeremiah had every excuse in the book to lose. But he still had one card in his sleeve that he had left to play. "For anyone who likes the media as much as I do, it was awesome. There were like, 20 camera there. If you watch the video on YouTube, there are cameras everywhere. Behind the glass, into the glass, above the glass. When I started, camera flashes started to go CLICK CLICK CLICK CLICK CLICK the whole time. I was like, 'This is window cleaning? What is happening?' They take this seriously in the UK." Jeremiah's love of publicity took over and energized him. He finished his run and did not think he did great, but knew he did way better than he thought he would. "I knew there was a few mistakes I left. But I felt good." Terry Burrows had a tight run. There was a Swedish guy there who wanted it bad. He was there the whole day before practicing and it showed in his effort. Jeremiah thought, "The best chance I have is 3rd place." 
When the time to announce the winners came. Jeremiah was tired. He listened as they announced the winners. Terry Burrows took 3rd. Jeremiah's hopes sunk. If Terry took 3rd, he figured there is no way he could have placed. His run looked so good. Then second was announced. It was the Swedish guy, Jimmy Strom. Amanda whispered to Jeremiah, "I think you won. You were better than those two guys." Jeremiah dismissed that thought. Hadn't he learned to trust his wife's judgment yet?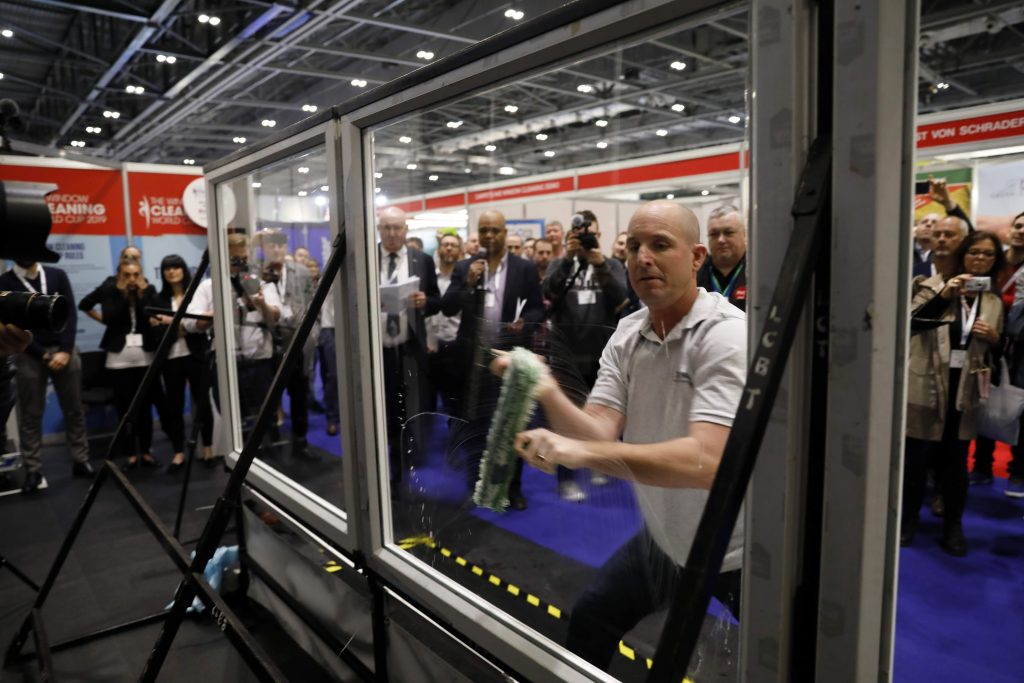 Jeremiah did the unthinkable
He beat the best of the US and the best of Europe, to take the 2019 Window Cleaning World Cup Title as Fastest Window Cleaner.
"It was chaotic as far as the energy and the travel, and my illness and somehow it all worked out."
Ever since he won, he has taken a different view towards the competition. Paul Collum, the then President of the IWCA in 2020, asked him if he would become a judge for the competition. He accepted that offer and worked hard to grow the popularity of it. That year the IWCA competition had more participants than they had the previous few years. Amanda suggested that he take more of an ambassador role for the competition and work at promoting it to the younger window cleaners, much like his mentor, Jim Willingham, did for him so many years ago. When asked if he would consider competing again, Jeremiah said, "I might make a run now and then, but it will always be for fun. I'm not driven to win it all anymore. I want to take on the ambassador role Amanda spoke of between generations and even expand it to other countries." It doesn't sound so crazy. If we know one thing about Jeremiah, he can do amazing things when he just listens to his wife. 
-By Gabriel Gutierrez