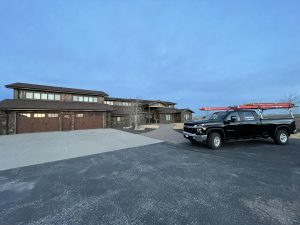 My name is Forrest Kundert, and I am the owner/operator of Pinnacle Carpet & Window Cleaning, Inc. in Deadwood, located in the beautiful Black Hills of South Dakota. I was raised cleaning carpets for my dad's company in Rapid City, SD. Then in 2003, I started my own carpet cleaning business in Wyoming. The first few years were slow, so I subcontracted some window cleaning from a friend who taught me the ropes. In 2009 I relocated to the Deadwood area and incorporated into a carpet & window cleaning business. Since then, business has boomed. It has now reached the point where window cleaning has overtaken the carpet cleaning end of the company. Although there is room for much expansion, I try to keep my business simple and have resisted hiring any technicians. 
This past year I invested in a water fed system, which has exceeded my reticent expectations, and I highly recommend it to anyone considering it. Offering both carpet and window cleaning appeals to many customers, so they can schedule both services with one company they already trust. The cost of entry is greater for carpet cleaning than for window cleaning, but I highly recommend getting into both fields for anyone considering it. 
Vacation homes are abundant in this tourist area, which composes most of my work. I love that I clean beautiful homes in such a beautiful area and have some of the best customers to work for!