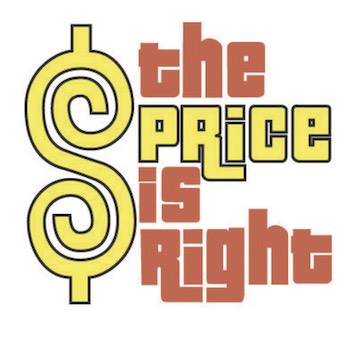 Hello. This is Jim DuBois from
WindowWashingWealth.com
. Most window cleaning business owners operate in the dark when it comes to pricing our services. They guess and ballpark what they should be charging. When it comes to research, most don't do it. But if they do, that usually means taking a look at what the competition is asking and then try to slightly undercut them. Cost analysis? That's usually a panic move that results in reduced prices regardless, which leads to smaller profit margins and jeopardizing the future of their company in the long run, especially when they begin hiring.
It's time to shed some light on the mysterious and elusive topic of pricing. Here are a few things you should know:
Yes, it's true – people buy at different levels. That's just one reason why General Motors sells Chevrolets, Buicks, and Cadillacs.
You can find a Wal-Mart customer in every category. But you can also find a Nordstrom's customer in every category, also.
You can choose to spend the night at a Motel 6, or check in at The Ritz.
Looking to buy a men's suit? You can get one off the rack at Sears. Or you can get fitted for one at Neiman-Marcus.
The lesson to be learned here is that as a window cleaning business owner, you can pick which clientele you want to work with:
lower middle class
middle class
upper middle class
the affluent
or the super affluent
You can decide to cater to a "price is king" crowd. But that can be dangerous because there's always going to be someone who can undercut you. Or you can choose to work with customers who rank price low when it comes to doing business.

Competing on price can be hazardous to the future of your window cleaning business.
If you aren't the cheapest, it makes no sense to be "one of the cheapest". Because those who shop price only are all going to go to the cheapest. Which leaves you out in the cold. Make sense?
If you are in the service business as we all are, you must reinvent yourself. Find something besides price to be competitive. Maybe your service is second to none. Or your estimate turn-around time can't be matched by the competition. Find something besides price that you can use to leverage your business.
For example: There's a pizza take-out and delivery shop that decided to go gourmet. It's located in a small city where they compete with dozens of other pizzerias. And their prices are higher than all of them. They don't offer special deals, discounts, or two-for-ones. And they don't do Groupon or Valpak. They doubled their sales and profits last year. Here's the key word that differentiates them from all the other pizzerias in town: gourmet.
This is where branding, professionalism, and outside perception becomes important in your business. In past articles, I have talked about Unique Selling Propositions and Articulated Sales Arguments. This all applies if you want to price position yourself.
Don't worry about so called "industry norms"
Most business owners take a look at what their competitors are charging. They make note of the high price, the low price, and end up setting their prices somewhere in the middle. As unscientific as it may sound, this is the way most window cleaners establish their prices.
Most selling occurs in a vacuum. If your selling process doesn't, you need to change your marketing approach so that it does occur in a vacuum before an actual sale happens. In other words, the money is in selling to the affluent for most of us focused on residential. You don't want to sell in a competitive environment, you want to sell in a vacuum.
Also, test price elasticity – go create a "Deluxe" version of your services. At least 5% of people will buy it because they just buy the expensive thing by default. Price is always elastic because of the person – if it wasn't, there wouldn't be any upgrades when someone buys a car. The more affluent your market, the more likely they will take the deluxe package.
There is "price", and then there's "presentation of price". This means structuring the services you sell, how you package it, how you market it, and to what audience, and how you deliver it differently than the competition. These small, subtle differences allow you to set a higher price, because a direct comparison to lower prices can't be made. Why? You've built in value-added benefits and features to your service – something the competition doesn't offer.
Avoid running your business on fear
Most window cleaning business owners needlessly underprice their services. They then try to overcompensate by raising prices – often too little, too late. They also make the mistake of ignoring opportunities to sell premium priced versions – mostly out of fear.
The price your customers pay is a result of the target market selected, perceived value, the value proposition presented, salesmanship of you or your customer service rep, credibility of your company, brand and buying experience. These are just a few of the factors that play into the buying decision.
The buying decision has very little to do with objectively measured intrinsic value. If that were the case, diamonds would not cost any more than glass or coal. You can control and manipulate all the non-intrinsic factors. So, you should approach price courageously and creatively.
A great way to build up your pricing courage is to do a little research and find out what the biggest and best companies in your area charge.
Here's what you'll find.
The most successful companies are typically the most expensive.
That's my case with my company in my market. My company along with Window Washing Wealth Licensees, do a competitor analysis every year. This analysis does a number of things – 1. does the competitor answer the phone, 2. how quickly do they estimate, etc. but we also get their pricing. We find out where the "price bar" is in each of our markets and act accordingly. And accordingly, is not the lowest, and it's not in the middle. It's the highest.

Is fear holding you back from charging higher prices?
Now perhaps raising your prices feels scary.
You aren't alone.
One of the biggest fears that business owners come up against is the fear of raising the prices for their services.
When I talk to those in the business, here are some of the push-back statements I get:
"If I raise my prices, I'll lose my existing clients."
"If I charge more, my existing clients will get mad at me."
"I won't get new clients if I raise my prices. No one will hire me. No one will pay that much."
"My competition prices similar services at X. I'm worried that everyone will go to them instead."
"I don't know how to package my prices to sell them at a premium."
"We're not sophisticated/fancy/professional/big enough."
"I need a new website/sales page/business card/logo/salesperson before I can charge a premium price."
I address all of these in Window Washing Wealth. None of these things are true. Remember, your ideal clients' brains actually gravitate toward premium pricing.
Fears hold window cleaning entrepreneurs and CEOs and sales professionals and leaders back from making more money and becoming more profitable. And the hard truth is, no matter what you charge, you will be too expensive for someone.
But the people that you "price out" are almost always the pain in the a** clients. These individuals tend to demand more time, treat you worse, ask for discounts, question bills, and question your abilities. Would you agree?
They are downright draining.
In contrast, when you raise your prices, you actually become more attractive to your ideal clients and you eliminate the pain clients who demand a disproportionate amount of your energy and time.
The ideal clients that you begin to attract are thrilled to pay a premium price because they understand the ROI they are getting is worth their investment. And the best thing of all? They pay on time without asking for discounts.
Jim DuBois is founder of Squeegee Pros, Inc. out of Mooresville, NC and is the creator of WindowWashingWealth.com. Visit the site for a FREE MARKETING REPORT, BUSINESS BUILDING MANUAL, and AUDIO CD. Window Washing Wealth is a coaching program that specializes in aggressive marketing tactics, systems implementation, and growth trajectory execution – all leading to market domination on auto-pilot. We are changing the way window cleaners do business. Email questions you'd like to see answered in this column directly to [email protected] or call 704-451-0409.