Hi! My name is Richard Arendsen, and I'm from the Netherlands. I'm 26 years old and started my company, 'Arendsen Schoonmaak en Dienstverlening,' in April 2019.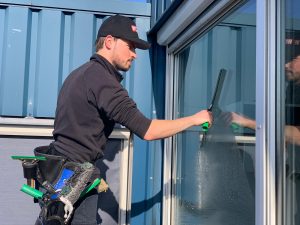 When I was younger, I worked as a security guard for two years; before that, I worked as a cook for some time. Before I decided to start my own business, I also worked in a factory for quite a while, but in the end, that didn't make me happy, and I wanted to switch professions. 
My two brothers and three cousins were doing cleaning services, which is how I got in touch with this job. Others have taught me a lot about window cleaning, and YouTube has helped me to learn new tricks. I have tried almost every tool available because I want to make sure to have my own style, so I can deliver excellent work and make sure the customer is pleased with the results. I have noticed that customers value it when you arrive on time and keep to your agreements, which is exactly what I stand for. I appreciate the fact that I have more freedom and can plan my days myself. This helps me a lot to have a good work life balance. The more I worked as a window cleaner, the more I got interested in this work field, which is why I started collecting some window cleaning items as a hobby, as you can see in the pictures. 
I also contact fellow window cleaners on social media, the platform where I meet others with the same passion for this profession. To this day, I'm glad that I started my company, that I get the chance to meet new people, and that I'm still learning more and more about this profession.