From aluminum to carbon fiber, water fed poles have seen their fair share of new technologies, and innovations.
But have you heard of Kevlar?
As far as Kevlar goes, Simpole has been using it for a while now, and the Excaliber has been using it for 7 years!
The Excaliber shorty is a 20' pole that is a green Kevlar with a hi-mod core.  This gives you a light pole that is also crazy stiff.  Plus this pole works with any of the current SimPole poles.  So adding height is easy.
The finish is a BAKED-ON epoxy, not just a clear coat, which raises the durability even more.
I got my hands on the Excaliber shorty 6, and this thing is SEXY.  I mean that in the most professional way possible.
A few of the cool little touches is the red overlay section is actually a red kevlar, not paint.  There are also rubber o-rings nested up at the bottom of the clamps.  So when the pole is closed, the clamps rest on rubber.  Each base section also has a thick rubber pad to protect against concrete damage and they really seem to do the trick.  And I love the pole tip itself.  It is a machined metal, so no more broken tips out in the field. 
Each section of the Simpole Excaliber comes off so you can drop weight as you go.
And I can't forget to mention the color!  This is AWESOME.  It's like a chameleon green!  SimPole has always been known for its fit and finish, but this is an awesome-looking pole!
This 20' comes in at $499 right now, and that is a complete pole.
This is a super stiff pole! I love the mix of Kevlar and Carbon fiber!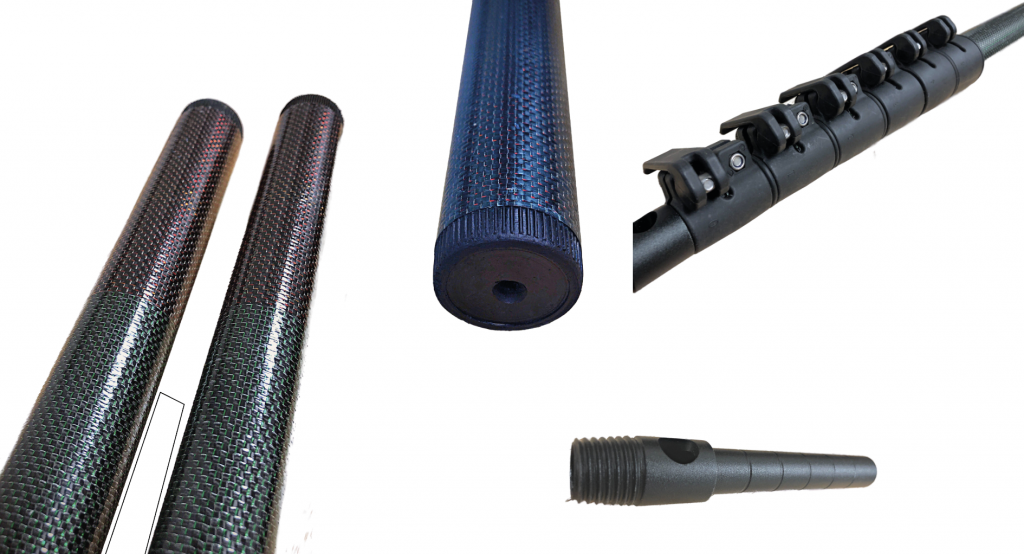 If you want to pick one up check out!
-By Jersey