Welcome to a new monthly excerpt in AWC magazine where I, SteveO the Window Cleaner, will be choosing a product a month to highlight and talk about what I like or don't like about it!
Let us start with the IPC Techno Pad!

I began using the IPC Techno Pad a few years ago after I realized that bronze wool pads would stick to the Velcro on the Techno Pad. I have used bronze wool pads for years now when cleaning residential windows and dirty commercial windows. To me bronze wool really gets through that extra layer of dirt that sometimes a microfiber sleeve cannot. But its not always fun after a long day of window cleaning to have to scrub every inch by hand. What the IPC Techno Pad allows you to do is put a bronze wool pad, white pad, or walnut pad on the 4" x 10" flat surface and then the handle can attach to any professional extension pole or can be used by hand, and the rotating swivel where the handle attaches to the flat surface where the pad sticks to makes scrubbing a lot less tedious and easier then doing it all by hand.
I use this in restaurants especially when there is a table in front of a window and its hard to move it, you can put the IPC Techno Pad on the end of your extension pole and give a very thorough scrub getting all the greasy fingerprints and food debris of the glass without moving everything in front of the window. I found my self also using it on homes when doing pole work and made me confident that I was getting a good clean on windows without having to be "nose to glass".
Every window cleaner I have showed this too just loves it and I always hear the same thing….it's a game changer! And its low price, usually right below $25, makes it a low-cost tool to add to your arsenal.
The only improvement I would love to see for it is a bronze wool pad that can stick to the Velcro without leaving the white felt in the Velcro, this is the only common complaint about it. But remember you can also stick a white pad or walnut pad to it and get a great scrub as well without leaving the white felt in the Velcro!
In conclusion
I would highly suggest adding the IPC Techno Pad to your window cleaning tool arsenal if you have not already. It has so many benefits for commercial and residential window cleaning!! Check out my review on it as well on my YouTube channel "SteveO the Window Cleaner".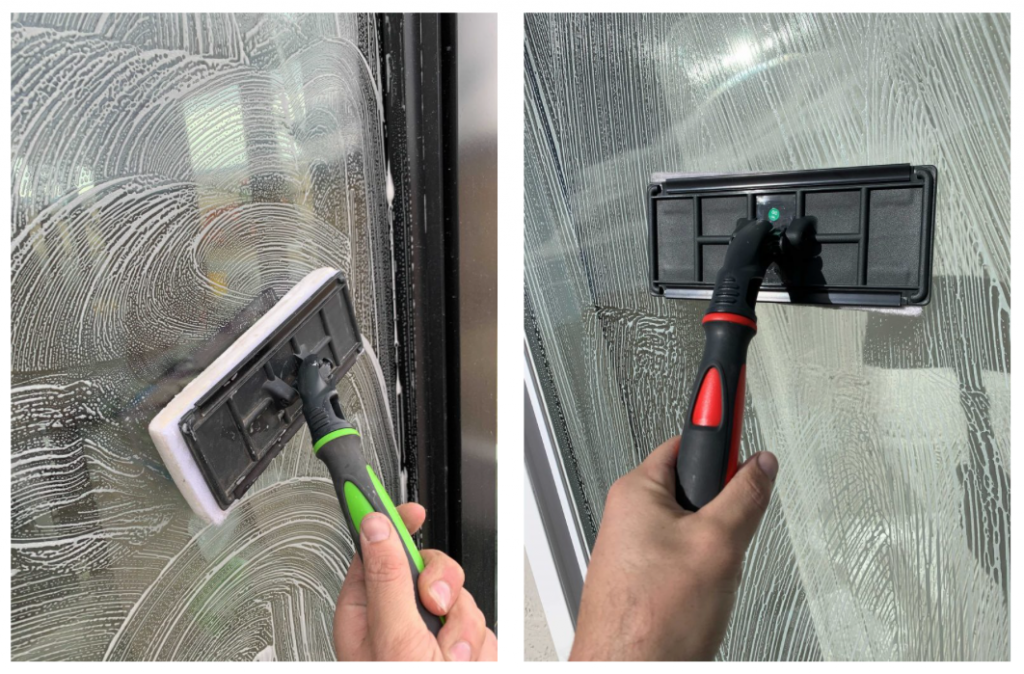 -By SteveO