What kind of bucket or bottle do you use for holding your window cleaning solution? Do you use a 5-gallon circular painter bucket, or do you use a 6-gallon rectangular bucket? Maybe you use prefilled small bottles with a spray nozzle?
In this article I am going to review my favorite way to hold my solution and some of the pros and cons to mine and other ways of doing it.
For me, I prefer a 6-gallon rectangular bucket. Why? You can easily fit any 18" and smaller tool directly into the bucket. Where this comes in handy the most is when you're dipping your mop in the bucket and you can soak the whole mop without having to dip each end in like you do with a 5-gallon painters' bucket. Currently, I use the Unger Pro Bucket which I have found to have the largest amount of space to fit some of the new washer sleeves that have come out recently. Mop systems like the Maykker sleeves or the Sorbo S-ARM only fit in this bucket like I described earlier. With any other 6-gallon bucket such as the Pulex Bucket, you will need to dip each end separately to soak the whole washer. Another thing to note about the rectangular buckets is that the handle is a lot more comfortable to grip and seems to be stronger than the skinny coat hanger like handle on painter buckets you'd get from Home Depot that dig into your hand; especially if you have a job that you need to walk a couple of blocks to when cleaning a storefront route.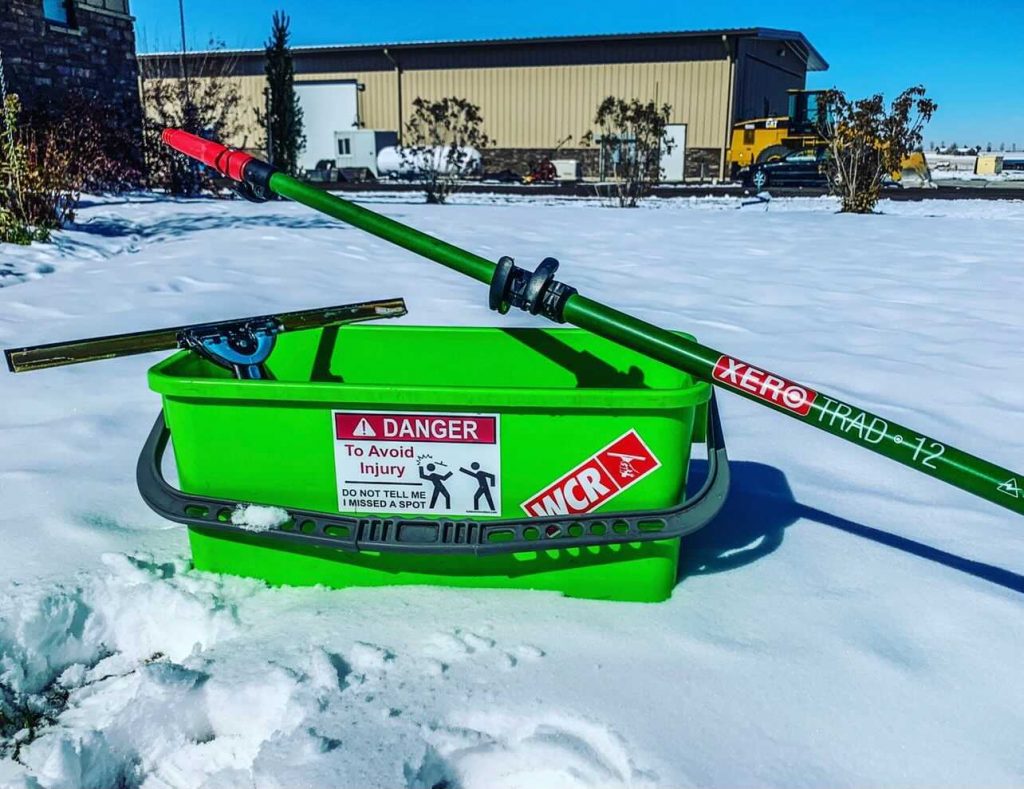 Now, most likely you have had one or two times where your bucket has either fallen over in your car or you didn't put the lid on tight enough before you started driving and you have had water and soap go all over the inside of your vehicle. This is another benefit to rectangular buckets, since they are not as tall as a 5-gallon circular bucket they are less prone to tip over. I have also found the lids on rectangular window cleaning buckets to secure a lot better than the painters' bucket lids. I would add that it is good to never fill these buckets to the rim with solution. Anywhere from 2-3 gallons is enough solution to fully submerge your mop and be able to clean quite a few jobs. If you run out, I suggest carrying extra jugs of water or make sure to always have a water key on you so you can fill up the bucket wherever you are. Also, having a bucket that is not too heavy will help you avoid issues in your future from lugging around a heavy bucket of water.
Another option is to use bottles with or without a spray nozzle. Unger has a popular spray bottle where you attach the reservoir to your belt, then it has a small hose that goes to the spray nozzle to wet the window. I personally am not a fan of spray bottles because I feel that it doesn't provide enough solution to the windows, but it can be a great option for inside homes where a larger 5 or 6-gallon bucket may be too risky due to possibly tipping over. I personally use the rectangular buckets inside homes, but I do encourage trying both to see what works for you and encouraging new employees to use a small spray bottle to reduce the risk of any mishaps occurring.
For me, rectangular buckets are just the way to go. You do see a lot of high-rise window cleaners use mostly 5-gallon painter buckets and a lot of residential window cleaners using primarily spray bottles. Once again, this comes down to personal preference. I would encourage you to try out the different options and you may find that something different from what you're doing now makes your day easier and more efficient.
Did you ever think there could be so much to consider with the buckets we hold our window cleaning solution in? Remember to check out my Youtube channel as well and tell me in the comments which bucket you prefer!
-By SteveO