When I think of the slow season, I am really thinking about how to prepare for the next busy season and how I can be ready to take on ne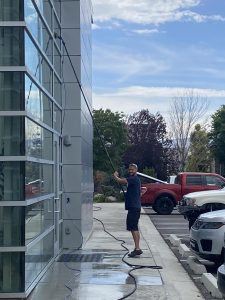 w clients, new employees, and even new techniques and equipment. There is a lot to go over and think about if you want to have a successful year in your business, so let's get started.
I like to take the first couple of months checking all my trucks, their tires, oil change, and routine things that need taking care of. On trucks that get used more than others, new tires are important and vital for the safety of my employees, and tire rotations on other ones. In the trucks' beds with a lot of bolted-down equipment, it's important to make sure the bolts and hardware are smooth and can withstand the elements for the next year. I check my systems throughout the slow season to keep them running smoothly with no hiccups for busy days. Examples of some of the things I check include the carbon filters, which can get dirty very quickly, the RO tanks to make sure they are not fouled and are properly filtering, and the resin (which I change a few times a year anyway). I like to keep my hosing organized and not tangled as well. This is one of the small things that helps a job to go smoothly! 
Along with a new busy season come some new hires, which is great! All businesses, big and small, can use some extra hands. New hires tend to require some training, which current employees can always use, just to freshen up some of their skills in the field. There is always a new technique or a new tool we are coming out with and training sessions on these are extremely useful no matter who you are! I remember when I was fresh into window cleaning. My first job was a storefront which should have taken me 30 minutes or less. It took me 3 hours! Yeah, THREE WHOLE HOURS. I had no prior training and had no idea what I was doing. I guess my bosses really trusted me, HA! Anyway, I can do that storefront in exactly 25 minutes now. I always think of this when I have someone new in the scene. I never want to send someone out who truly doesn't know and is scared to ask questions. Never be afraid to ask questions.
I like to make sure my office staff is just as prepared for the busy season as my tech"s are. We focus a lot on hiring new guys in the field; we often put off office work. Which, to me, is one of the most crucial parts of your business. It's awesome if your guys can bring in 1500 bucks a day per truck, but you first have to get them on the job site. When guys first start, we always think of equipment first and foremost. But honestly, before your doors even open, you should be thinking about marketing and branding. Whether it is EDDM, calling old customers, door hangers, yard signs, or having your office staff prepped on the new advertising ideas for this season, have them ready to have the billing coming in and out all in order. Branding, whether wrapping your trucks or sending out fridge magnets with a gift card, have it ready.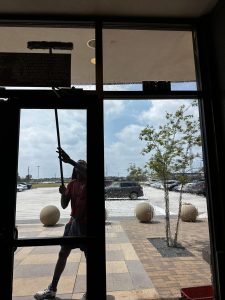 Make sure that your staff is financially prepared. It does not matter if you have fresh or seasoned employees; most guys spend all their money in the busy season when they tend to make more and get caught off guard in the winter when it slows down. Try to have meetings once a week or at least once every few weeks throughout the year. Make sure you have a plan and stick to it. I love having meetings where everyone can brainstorm new ideas because if you only listen to yourself, you won't get very far in business, and everyone can always learn something new.
The last thing to mention is to make sure everyone has a clean uniforms, hats, shirts, hoodies, and raincoats. Don't be afraid to switch crews around to see who works best with each other. It may sound dumb, but they will work better if the crew gets along. Also, everyone cleans a window differently, so pairing the right guys together makes a world of difference.