When I was 15 years old, living in rural Ontario, Canada, I bought my first squeegee, bucket, a bottle of Dawn, and a ladder. Twenty years later, I am the proprietor of Squeaky Clean Windows in Kansas City.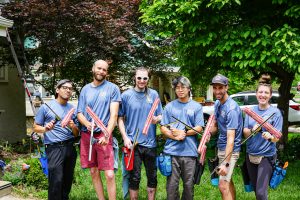 I attended a small, accelerated learning school for my Bachelor of Science degree in Business Administration, with no clear idea of how I might use it. I graduated debt-free by window cleaning, landscaping, and taking passport photos for Canadians facing changes in documentation requirements. When I moved to Kansas City in 2009, I continued cleaning windows in the summer but never took the job seriously.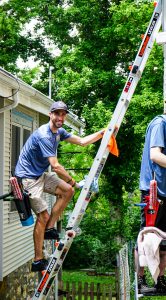 When I first heard about Window Cleaning Resources, it was because I had become frustrated with a local cleaning supply store (they sold me a faulty razor blade and refused to accept a return). Through WCR, I have met a wonderful community of fellow window cleaners and discovered an incredible collection of podcasts, YouTube videos, forum posts, and magazine resources.  Even texting with my sales rep, being able to ask silly questions like, 'which squeegees are the best' or 'what kind of soaps work well," was beneficial! I began to look into expanding beyond just one or two helpers and hired my first couple of workers from the kitchen staff at the restaurant where I bartend. We specialize in a traditional window cleaning method, mostly cleaning residential windows in the suburbs of Kansas City.
With winning smiles and friendly personalities, my crew and I have gained the trust and loyalty of a vast swathe of customers that continue to call us year after year, passing on our name to many of their neighbors, family, and friends. With ten technicians now on the payroll at Squeaky Clean Windows, we look forward to conquering our greatest yearly sales to date and could never have done it without the support, ideas, and motivation obtained through the pages of this very magazine. If you're ever in Kansas City, please find me at Extra Virgin and tell me you're a window cleaner; your first drink's on me!