The ideology that the customer is always right has been a long-standing slogan in the service industry. In the last several years, however, this has changed to a more reasonable slogan: ' The customer isn't always right, but is still the customer.' The question then arises, should you ever tell the customer 'no' as a business owner? The answer to that question, especially as a window cleaner, is a resounding yes!  
 In this article, I will discuss reasons why you should tell the customer no to your services and how you should tell them. If you don't think you can get something done when the customer needs it or have the capacity or equipment to do it safely, it is perfectly okay to be honest with the customer and politely let them know why. If there is one, it's important to involve the customer in any type of resolution or plan B. Offer them an option that would be a win-win situation for you both. 
These are some reasons that most window cleaners would have to tell a customer no, but certainly not all of them: 
Job Safety
Lack of Profit
Lack of Job Knowledge
Being Treated Poorly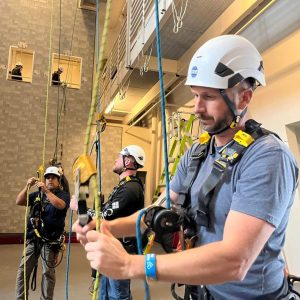 Job Safety

. 
Your first consideration at the top of the priority list is always job safety when telling a customer no to your services. As an example, if you have cleaning gutters as an add-on service to your window cleaning business and the customer is requesting a quote for gutter cleaning on a two-story house, but you don't feel comfortable doing that at 20' to 25' high, you should tell them that you don't have the right equipment, such as a lift to do that safely, and won't be able to give them a quote at this time. The same goes for external window cleaning on a two-story or three-story house. If you don't have the equipment to do it safely, such as a water fed pole, or feel confident about doing it safely with a ladder, tell the customer you won't be able to give them a quote at this time.  
2

. Lack of Profit.
As a business owner, you must make a profit from the services that you provide to keep running your business. There will be times when a customer is looking for the best value and the lowest price possible, and the quote you gave them is just too high for them, even though it is very reasonable. If you don't have any negotiating room for your price, then you should stick with your gut and your price and explain to the customer that you offer the highest quality possible and you aren't willing to lower your price or quality, which you provide.  If they asked for an estimate for the interior and exterior but didn't want to pay that price, offer them a lower external-only price that they might be happier with, which could be half of the original estimate.   
Lack of Job Knowledge, skills, or equipment
As a business owner, you will be asked to give quotes on locations or jobs that might be beyond your experience, skills, or equipment. As a window cleaner, this will most likely happen to everyone at some point in time. If a large, four-story hospital with nothing but windows contacts you for an estimate and you honestly feel like you don't have the manpower or equipment to do the job in the timeframe they need, you will need to tell them no and not give them an estimate. But also, be honest with your contact person and explain why you won't be able to provide them with the estimate at this time.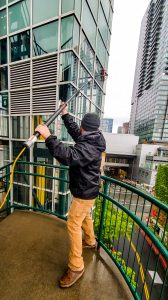 Your company doesn't offer that service.
It is common for window cleaning companies to offer add-on services such as gutter cleaning, chandelier cleaning, or pressure washing. If a customer asks you to give them an estimate and you haven't expanded to that area yet, bought the necessary equipment, and learned how to use it, it is best to politely explain to them that you don't offer that service yet or have the equipment but to check back later in the year. This is a good example of telling a customer no, but in a polite way so as not to offend them.   
Being Treated Poorly

.
Everyone wants to be treated with respect, but if a customer is out-of-line, is hostile with you or one of your employees, or yells explicits, it is best to remove that client from your list and any future business with your company. When dealing with the general public in the service industry, there will always be customers who will always be unhappy and constantly complain about something. These customers will do more harm than good for your company and only bring morale down with your employees. Again, it is always best to part ways with them in a polite way.