In the social media age that we live in, being active across multiple social media platforms is a must to promote our businesses! However, have you ever thought about the negative side effects of what you post?
What do you see below?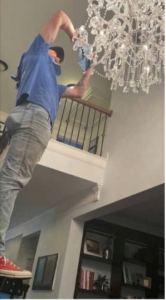 Do you see a person hard at work, doing their best to complete a task for a customer, leave a good impression, and make an honest living? I do! I also see a dangerous hazard where our window cleaner could be severely injured – or worse! None of us wants to have one of our window cleaners get hurt, and certainly, none of us wants a fatality on our watch, which is why we all appreciate the value of safety. Do you think that a post like the one above is likely to get negative attention for you and your company, represent our beloved industry in a bad light, and promote unsafe work practices not only within your own company but throughout the window cleaning community as a whole? Of course, it will! 
You can be assured that health and safety authorities, insurance providers, and customers are viewing your activity, even in "closed" or "private" social media forums where many of the most egregious pictures can be found. Be mindful that your business and personal posts are promoting safe practices. 
"But I've been doing this for 20 years, and I've never fallen." Or, "But I work for myself, so I'm not under OSHA's jurisdiction!" We've all heard this, right? Falls from height continue to be the leading cause of injuries and fatalities. The odds are not in your favor. If you are an employer, neglecting to train employees according to safety standards and enforce them is illegal. Did you know that OSHA's maximum penalty for a single violation increased to $15,625.00 in 2023? That's per violation. In 2022, standards for Fall Protection – General Requirements, Ladders, Scaffolding, and Fall Protection- Training Requirements were all in the top ten most frequently cited workplace safety violations by OSHA.
As a community of window cleaners, we all value the safety of our employees, the public, and the properties we work on. Let's enhance that value by closely examining our photos before we post them to ensure we're promoting safe practices. This picture is in compliance with safety standards, including head protection and tool lanyards.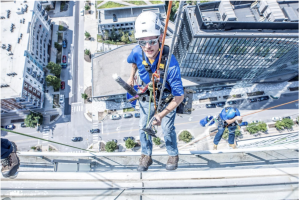 Here are some of the most common unsafe practices seen online:
Improper ladder setup (poor angle and poor footing). 

Misuse of ladders (standing on the top step and overreaching).

Failure to use edge protection or fall protection for roof work. From IWCA Safe Practices for Rope Descent Systems, " 9.2.1 If the roof edge is unprotected, the fall hazard zones which are 6 feet and 15 feet shall be identified, established, and maintained. 9.2.2 No worker shall be allowed in the fall hazard zones without the appropriate fall protection as identified and required by OSHA 1910.28." This standard applies to any scope of work in which the worker could fall more than four feet, including single-story residential rooftops.

Failure to keep a proper distance from power lines or other obstructions.

Failure to secure tools while working at height. OSHA 1910.27(b)(2)(xii): "Equipment, such as tools, squeegees, or buckets, is secured by a tool lanyard or similar method to prevent it from falling."

Failure to wear safety helmets while working at height. (IWCA Safe Practices for Rope Descent Systems 8.8.1, ANSI Z89.1-2014, reference OSHA 1910.135.)
It is paramount that we all adhere to the best safety practices while performing our work. This includes employers, employees, and sole proprietors. Join us in taking and posting pictures demonstrating safety compliance. Consider reviewing your website and social media accounts and deleting pictures depicting unsafe practices. If you hold a training certificate, authorization, or certification from the IWCA or another safety organization, ensure that you're displaying the training for which you earned your designation as an educated, safe worker. This will enhance the industry's professionalism, drive down insurance costs, and most of all, keep workers safe. 
To learn more about OSHA and other safety standards for our industry or to get trained, visit iwca.org. Campus IWCA is now available with most courses included with membership, in English and Spanish.
Contributed by Dametric Burnett, Board of Directors, IWC