I started my window cleaning business four years ago to earn some extra cash on the side. As I transitioned into full-time, I continued to work as a solo operation. I enjoy putting on my AirPods and getting to work, knowing exactly what I'll be doing that day or week. I also find satisfaction in knowing that what I'm doing is correct. I do not have to worry if the job is subpar or "not well done." I may not have the revenue or job capacities of those who hire crews, but staying solo has many positives. I think much lower stress (for the most part) would be the biggest draw. 
While more money is amazing (who doesn't like cold hard cash), it's not the only thing that comes with managing a crew. Your whole role within the company will change if you decide to hire employees. You go from performing the work solely to telling people how, when, and where to perform the job. You are in charge of hiring high-quality workers and making adjustments when short-staffed. Your work stresses go from missing a spot on the glass to missing a paycheck because you didn't have enough work for your crew. You go from hopping from business to business or home to home to taking calls within an office. The roles change as they should.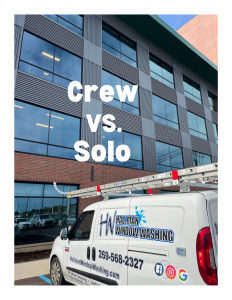 I couldn't write an article about the benefits of staying solo without mentioning the negatives. As a solo worker, I oversee everything: scheduling, bookkeeping, and performing window cleaning. There are times I wish I had the extra help to scrub the tracks while I work outside with the water fed. I have had my wife help me a few times this summer, and man, let me tell you, the load an extra person takes off of you is huge. You can nearly double the days' jobs and profit. You don't have to be a rocket scientist to calculate that you would make more money as a business if you had multiple crews out in the field.
But for myself, I'm not quite there yet. I enjoy the people I meet and help daily. I enjoy the freedom of taking a day off and not worrying about what my employees do while I'm off. I book until I am full and am content with that. Some owners are not; they want the crews, the fleets, and the money. There is nothing wrong with that, but you have to decide the direction you want your business to go and go as hard as you can! For Hallman Window Washing, my niche has been being a one-man crew. Building relationships and trust with clients has been one of my biggest successes. Whichever direction you decide to go, keep learning, asking questions, and making strides in improving your business and personal growth!