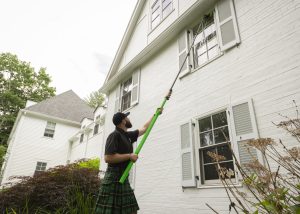 After joining the executive team in 2021, the new president of the exterior cleaning franchise has made it her mission to create a new, stronger image for the brand. 
When Rachel Southard joined the Threshold Brands leadership team as Men In Kilts' new president in 2021, she vowed to make waves with the brand. As the year's first quarter starts, Southard is proving to do just that. She has worked to shift Threshold's exterior cleaning franchise into something that will be even more appealing to franchisees and clients alike, essentially setting the brand up for future growth and success. 
Under Southard's guidance, Men In Kilts has recently undergone some major rebranding. The brand, once known for exterior cleaning and the "No Peeking" catchphrase, is now clarifying and embracing the strength and reliability associated with traditional kilts. This rebranding will bring Men In Kilts' identity into the 21st century. 
"When we first decided to take on a rebrand, which is a huge commitment from everyone involved, we were really focused on controlling the narrative and presenting a united front," explained Rachel Southard, president of Men In Kilts. "We knew we needed to bring clarity to what we do because our name and logo don't specify our work." 
The kilt is an essential part of Men In Kilts' legacy, but its prior representation did not align with the organization's true mission. Southard has led the charge in promoting the brand's mission to have customers think of warriors ready to take on "Tough-to-Tackle Cleaning." 
"When our customers see us, we want them to think of warriors, ready to take on the tough-to-tackle cleaning with strength and honor," Southard said. "We do the jobs that customers don't want to, and competitors are unable to. That's who we are, and we want to portray strong people ready to take on tough jobs, not someone just lifting their kilt and insinuating not to 'peek.'" 
The Men In Kilts franchises have always stood out because of innovative tools and technology, the commitment to going above and beyond for clients, and their strong community involvement. But with the brand's new Plaid Promise, each franchise guarantees that window and gutter cleaning, pressure and house washing, and snow removal will be done correctly. If the project isn't, the technicians in kilts will return to complete it up to standard. 
Embracing the 'Plaid Promise guarantee' allows the Men in Kilts clients to further develop trust with the brand and strengthen its reputation. At the same time, franchise owners feel even more confident in their investments. This promise will allow Men In Kilts to stand out in communities for what it really is– a locally owned company that offers a higher quality clean.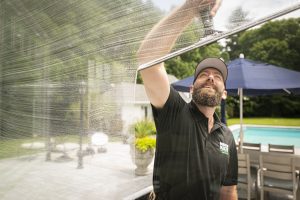 Rachel Southard's guidance has been essential to the success of Men In Kilts in recent years. The Plaid Promise is just one way the president has added value to the brand since joining the leadership team. As a millennial woman in a male-dominated industry, Southard recognizes that she isn't advantaged within the space. Regardless, she has worked to find personal success and empower other women in the industry by painting a picture of what strong leadership can look like, making innovation and empowerment an integral part of everyday operations. As a way to build up and inspire women in the male-dominated industry, Southard founded a program called She Dreams, a networking group within Threshold Brands for women. 
"There's something very unique about having a woman as President of a concept called Men In Kilts, and I'm excited to be in a position to lead in a way that considers a wider range of life experiences," said Southard. 
Before joining Threshold in 2021, Southard was a partner at Bottle Rocket, an Ogilvy company. She led the strategy behind digital brand experiences for brands such as Southwest Airlines, Chick-Fil-A, Christian Brothers Automotive, and Caesars. She also led global innovation operations for Self Esteem Brand's Anytime Fitness for nearly ten years. Since starting her career, Southard has been committed to creating innovative customer and brand experiences that help companies grow. She continues this trend with Men In Kilts. 
"Men In Kilts are here to protect your investment and your property. We offer a higher quality clean and hold all of our businesses to higher standards. Another big part of our value proposition is the opportunity franchisees have to engage with their communities, and this new presentation reflects that very well," Southard said. 
ABOUT MEN IN KILTS: 
Men In Kilts is North America's leading residential and commercial window and exterior cleaning company. Positioned to serve the growing demands of the multi-billion dollar cleaning and building maintenance industry, the Men In Kilts concept is about building a national brand that delivers unparalleled professional service. Men In Kilts was started in 2002 by Nicholas Brand, a Vancouver-based Scotsman who fashioned a hand sewn kilt and put a visual to the otherwise faceless window cleaner. By 2009, his business had grown to over one million dollars in revenue, and in 2012 the first franchise location was sold. Today, backed by parent company Threshold Brands, Men In Kilts has over 50 franchise locations across North America with aggressive expansion plans.