Many articles I have had the pleasure to write have been about hiring, firing, the busy and slow seasons, and Facebook ads. In this article, I really want to go over what you enjoy about this industry that we get to be in. For most, window cleaning is just a thing that we stumbled upon; lost a job and picked up a squeegee, knew of a guy who happened to clean windows at the time, wanted to start a business, and ran into a store with a window cleaner and that sparked our interest. Some of the guys we have met over the years are third or 4th generation window cleaners, and they got into it because it was a family business.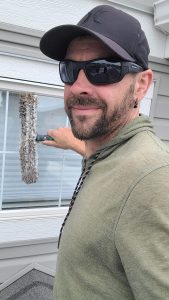 I didn't know what I was getting into until I started; I had no idea this industry was even a thing. Once I started learning more about pricing, scheduling, and equipment, it opened my eyes to how great a small business could be.
The most important thing I enjoy about window cleaning is the schedule. You can make really good money working for yourself only a few days a week. You could work seven days a week if you wanted to, but if you value time more than money, this industry could be a big hit. If you like people, you focus primarily on residential and talk to people from all walks of life. If you want to avoid talking to people, you can go after commercial accounts, clean glass, and go home. If you like heights and go rock climbing on the weekends, window cleaning has a ton of ladder work if you rather that over water fed; some do, some don't.
Continuing on the topic of water fed, if you get into it early and don't waste years of your life climbing ladders, you could do this independently for years to come. If your company has employees, water fed is safe and keeps them on the ground. They make water fed equipment that reaches up to 90 feet currently. 
In my opinion, water fed is much easier when learning how to clean windows. It keeps the windows cleaner longer without using chemicals, it's extremely cheap to maintain the filters, and it's much faster. I don't have enough great things to say about water fed.
I really enjoy how small the industry is. One of my favorite times of the year is attending the HUGE convention, hanging out with a couple of hundred other people, and talking about the good, the bad, and the ugly of window cleaning, sharing industry memes and drama over the year. It's nice to talk to people with small and large companies and pick everyone's brain on how you can better yourself and your company.
One of the best pleasures of the industry is how quick the results are; you have a dirty window, and within a few minutes, you have a clean window. No matter how you clean it, it's a straightforward, simple, and quick process. Also, how often you can get people on a recurring schedule is great. Let's face it, if you're in car sales, you most likely won't have customers buying another car from you for at least another five years. With store-front window cleaning, some customers are on a weekly schedule. Even with residential properties, it can be as often as every month or every three months.
Window cleaning can take you places you never thought possible, pay your bills and then some, and offer a work/life balance that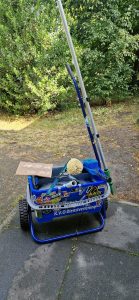 you choose. This industry keeps you safe and predictable in the market, as most of your customers are unaffected by a recession. Window cleaning is whatever you make it to be. I could go on for hours on what I enjoy about window cleaning, I hope you enjoyed the article, and I hope to see back from you on what you enjoy about window cleaning.