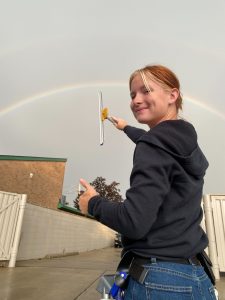 Being a female window cleaner, I thought I might share a bit about the unique experience of being female in a male-dominated industry. I am a 4th generation window cleaner and have only met other female window cleaners via the Pro Window Cleaning group on Facebook.
I started cleaning windows a little over five years ago after losing my job as a waitress. I was in college, had just transferred to a university, and had bought myself a truck when I woke up to an email telling me our restaurant was closing immediately. I went to tell my stepfather Craig that I no longer had my job, which was my primary source of income. Craig asked if I wanted to come to work with him that day in a half-joking, half-serious tone. I figured heck, why not? It's not like I had anything else to do at that point, so I went. We went to the basement, got a bucket and some tools, and loaded the truck. The first place I got to clean windows at was a beautiful historic building in Ohio City, which is an old suburb just outside of downtown Cleveland. The building is called Franklin Castle and was built in 1881 and has had some unique history over the years and is rumored to be a haunted hot spot. I had seen this building many times, ever since I was little, I was intrigued by it, and finally, I got to go inside! The current owners are restoring the building to its original look. The detail and craftsmanship going into it are stunning.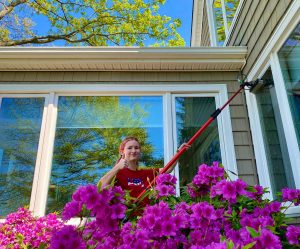 After that day, I decided to stick with this career path. After all, it is the family business. I continued cleaning windows part-time during college, even getting one of our larger storefronts done early in the morning each week to go straight to class afterward. After I graduated, I decided to transition to full-time. I've taken over our office responsibilities and continued to work full-time in the field. I enjoy this work not only for how satisfying the work can be but because of the people we meet (and the animals too). We have built relationships with our clients and fellow community members and often get invited to their 4th of July parties and cookouts. We even have one client that I've taken my dog over to play with hers. We live in a town that is dense in population but has a small-town feel, and it seems as though everyone knows everyone.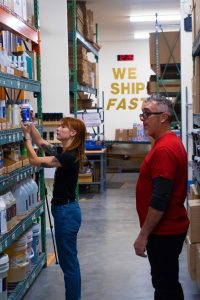 As a female window cleaner, there are advantages and disadvantages, which is true for the male window cleaner as well. A drawback I have faced is people not thinking you're capable of handling the work. I have heard concerns from both men and women about my abilities. I don't necessarily see this as a disadvantage but more of a motivator to show them that I may be small (I'm all of 5'2" on a good day), but I am very capable. Being so small has been very advantageous in my window cleaning career. Especially when there is that attic window that you have to crawl and squeeze to get to the inside because the attic is filled with holiday decorations and boxes of family heirlooms? No worries, I can squeeze through the effortlessly! The other disadvantage I would consider is that many of the tools and equipment are not designed with the female user in mind. I understand that until relatively recently, there hasn't been much of a market. Craig and I have worked together to modify my tools to make them work best for me, and in turn, I try to share what I've found helpful to other females in the trade. 
This year I have been working alongside Craig as a Sales Representative for Window Cleaning Resource. It has been interesting learning about ALL of the different tools, why folks like them or dislike them, and even getting the opportunity to try products I may not have thought of trying before. That opportunity has allowed me to help other female window cleaners and have them specifically reach out to me about tools and techniques, which I think is pretty awesome!
As a female window cleaner, I am the minority. Even though I have had folks make assumptions, I have found that the window cleaning community is very supportive and welcoming overall.