Trad vs. WFP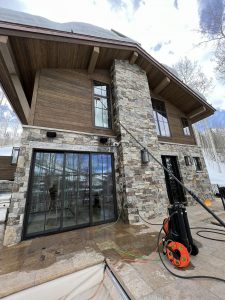 If you have spent more than 10 seconds in a window cleaning forum, you will see the age-old debate: Water-Fed Pole VS. Traditional window cleaning.
Both methods have their time and place in the window cleaning industry today.
History of the WFP
Originally introduced in the late 1950s, Irv Tucker created a car and home washer kit with a 3-6' pole that was originally marketed via direct mail to hospitals, colleges, and other commercial users. In 1993 Tucker met Craig Mawlam at a window cleaning convention, and that was the birth of the telescopic pole idea to reach even higher with a WFP. Over the years, technology and innovation have given us the modern-day WFPs we use today.
History of the Squeegee
The window cleaning squeegee was invented by Italian immigrant Etorre Steccone in 1936. The "Etorre" is still one of the most popular squeegees on the market with its lightweight brass handle and single blade.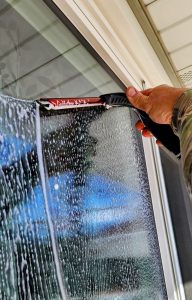 Cool Fact: Window washer Jan Demczur used an Ettore squeegee to free himself and five others from an elevator shaft in the World Trade Center during the September 11 attacks. The blade was lost, but Demczur's squeegee handle is now enshrined at the Smithsonian. 
Pros and Cons of WFPs
The pros of using a water-fed pole are that you can reach high windows safely from the ground, less time to train someone to use one, leave a spot free clean, 
The cons of water-fed poles are that they take longer to set up, need a water supply, are expensive for the guy just getting started, and cannot be used inside. 
When I started my first company, South Mountain Window Cleaning, one of my first purchases was a Reach-It WFP system that allowed me to take on bigger commercial jobs and get them done efficiently.
Pros and Cons of Traditional
The pros of traditional window cleaning are that there is a low cost of entry for the new guy, you can clean any window with a squeegee inside or out, and 
The cons of trad are that you need to be on a ladder a lot, it takes longer to train someone to clean windows traditionally, and there are just some windows that are not safe to clean traditionally.
Personally, I am a traditional window cleaning kind of guy. Something about cleaning a window with a squeegee gives me satisfaction that I don't find in using a WFP.
So which one is better?
Neither. Each method has its pros and cons. The professional window cleaner running a successful business won't get caught up in a forum debate but rather use each tool when that tool is the most efficient to get the job done.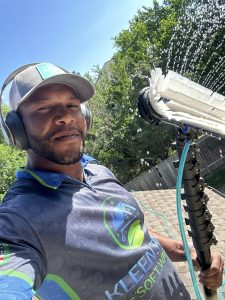 Written by: Jeremiah Green